Kasara Urban Resort Residences - LOCATION
The Kasara is located at Eagle Ave. & P. E Antonio St., Ugong, Pasig City.
Most of the residential properties being constructed are outside of Metro Manila these days. This is understandable because the city's population is increasing steadily with each year that passes. One disadvantage of this trend is homeowners have to factor in the additional distance and time for travel. And with traffic getting worse, having a home outside the metro is looking like a really bad option. That's what Kasara Urban Resort Residences aims to resolve for everyone. This property promises to provide a living standard that's better than anything you have ever seen in a location that's conducive for your daily routine.
With its location adjacent to C-5 in Pasig City, residents of Kasara Urban Resorts Residences will have an easy time with their travels. Getting to various places in the metro, such as Makati, Ortigas, Bonifacio Global City, Manila, and Alabang is rather easy due to its location. As a result, your work or any other obligation need not suffer when you opt for a home here. At the same time, there are various modes of public transportation readily available at any time of the day. You can easily hail a cab, bus, van, or jeepney as soon as you step out of this property to take you to your destination. You won't have to worry about your time anymore because Kasara Urban Resort Residences has you covered when it comes to your address in the city.
As soon as work ends, your first tendency is to find a place nearby where you can relax and release all your stress. Due to its location in Pasig City, Kasara Urban Resorts Residences takes you nearer to several major shopping and entertainment establishments in Metro Manila. Some of these malls include Shangrila Mall, SM Megamall, Robinson's Galleria, SM Center Pasig, and Puregold Rosario. Plus, you can go to great places in Bonifacio Global City, Ayala, and Greenhills in no time at all when you choose this property to be your permanent residence.
Your children's studies need not be affected when you move into Kasara Urban Resorts Residences. This property is situated in an area that surrounded by quality schools, making your children's future a lot brighter than what it used to be. These schools include Francisco Memorial School, Rosario Elementary School, and Escuela de Sto. Rosario, among others. With these education institutions so close to your home, your kids can focus more on their school work better.
Staying fit and healthy is a big challenge these days due to an increase in all sorts of pollution and stress. With the danger of ailments and diseases all around us, it would be wise to choose a residence that's close to a hospital should an emergency pop up. Fortunately, Kasara Urban Resorts Residences is near to medical institutions like Manibog Clinica, Morales Children's Clinic, and Joson Medical Clinic. With these establishments close to your home, you can feel a lot safer with the well-being of your family.
Choosing a new home is easy when you find out all the important establishments are just a few minutes away from you. When you opt for a home in Kasara Urban Residences, all your everyday needs are yours for the taking without causing you too much hassle.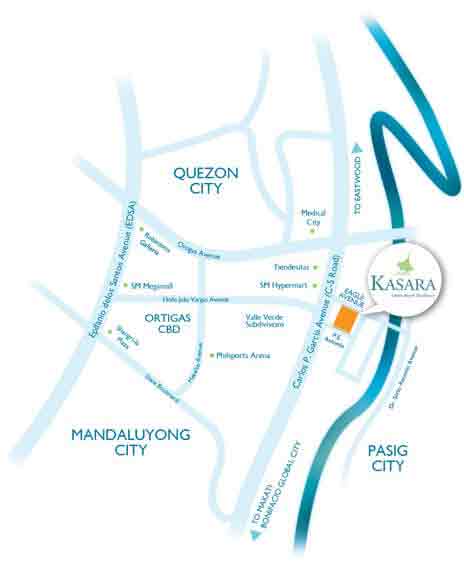 Pasig City is an ever increasing haven for home-seekers who want everything near them. The rapid growth of Pasig City makes the Kasara Urban Resort Residences more attractive to urban-dwellers seeking the finest quality in life. Condos in Pasig City are also rapidly increasing, but unlike the Kasara, they are built with inferior quality and poorly maintained. As other residents from adjoining cities of Metro Manila, while some are from the provinces, the city is welcoming everyone to its fold.